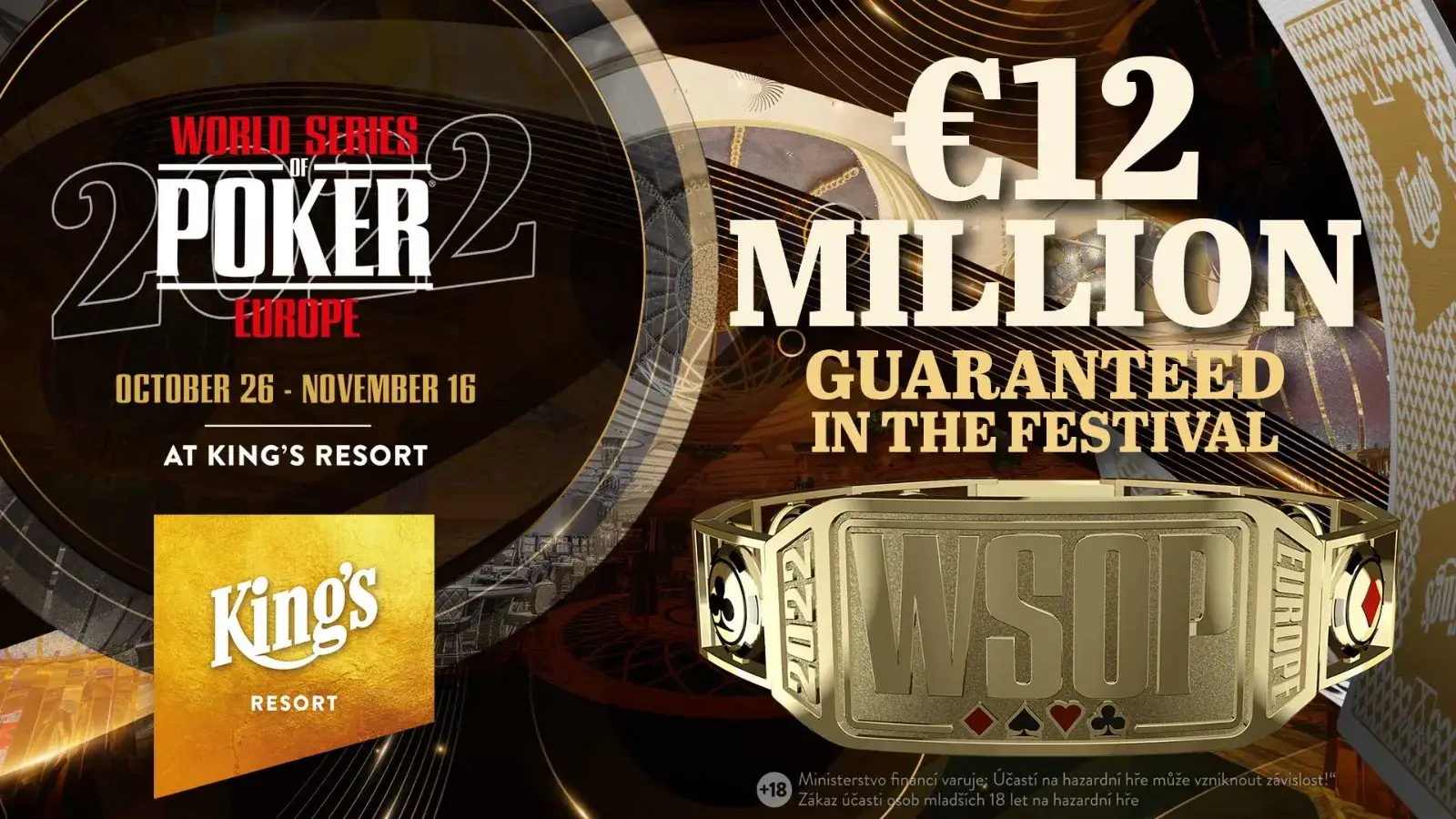 World Series of Poker (WSOP) oznámila svůj plán pro zbytek roku 2022 a 2023.
To zahrnuje WSOP Europe a 2022-23 WSOP Circuit (WSOP-C).
WSOP Europe 2022 se bude konat v King's Resort v Rozvadově v České republice od 26. října do 16. listopadu, přičemž Main Event začne 11. listopadu.
WSOP-C také začíná svou mezinárodní jízdu v roce 2022 v King's Resort dne 21. září, zatím je naplánováno 10 potvrzených zastávek a mnoho dalších bude brzy oznámeno. Kromě získání místa v turnaji Tournament of Champions určeném pouze pro pozváné na WSOP 2023 v Las Vegas získá každý šampion z živých nebo online okruhových událostí zlatý prsten WSOP.
"Jsme velmi nadšeni, že můžeme hostit největší a nejprestižnější turnajovou sérii s největšími zárukami v Evropě bez jakýchkoli omezení a problémů posledních dvou let," řekl majitel King's Leon Tsoukernik. "Konečně byla zrušena cestovní omezení pro hráče pocházející z USA. Všichni jsme připraveni poskytovat prvotřídní služby a pohostinnost všem hráčům pokeru v King's."
Mezi zastávky v rámci WSOP-C patří mimo jiné Cintermex Convention Center v Monterrey v Mexiku, The Star Sydney v Austrálii, Deerfoot Inn & Casino v Calgary v Kanadě a Es Saadi Marrakech Resort v Marrakech v Maroku.
Senior viceprezident a výkonný ředitel World Series of Poker Ty Stewart k tomu řekl: "World Series of Poker je připraven znovu se stát mezinárodním. Poker je větší než kdy předtím a v našich Main Eventech nedávno proběhla řada mezinárodních šampionů. Jsme nadšeni, že můžeme transkontinentálním hráčům vrátit pokerové zážitky z WSOP-C a WSOP Europe, které se objeví jednou za život."